Landscaping Services
in Kalispell, MT
Major landscaping renovations are no small task, which means they require heavy equipment and people who know how to operate it. If your project demands excavation, erosion control or general landscape earthmoving, trust Massey Excavating and Landscaping. We offer our services to property owners throughout the Kalispell, MT area, assisting you in achieving the ideal landscape design.
Excavation for Landscape Design
Whether you're trenching out new flower beds, replanting trees, excavating for a retaining wall or putting in a feature, our earthworks services are exactly what your landscape design needs. Using backhoes and skid loaders, we handle excavation work quickly and conveniently, without ripping up the rest of your property. Call us for excavation and take the burden of digging off of yourself!
Erosion Control
Good drainage is a quality of any good landscape—and it's important in Kalispell, MT, to handle the influx of melting snow every spring. Through our erosion control services, we'll grade your landscape for proper runoff, so you're not left with pooling water or extreme soil saturation. Our erosion control capabilities extend to properties of all sizes, no matter the terrain you're currently dealing with.
General Landscape Backhoe Services
Need a hole dug for a new septic installation? Leveling out your backyard to accommodate a new deck or patio? For general landscape earthmoving services, handed with quickness and care, call us for backhoe service. From excavation to grading and whatever else your property needs to install the perfect landscape design, we'll deliver it. Let us impress you with the degree of precision we bring to major landscape earthmoving projects!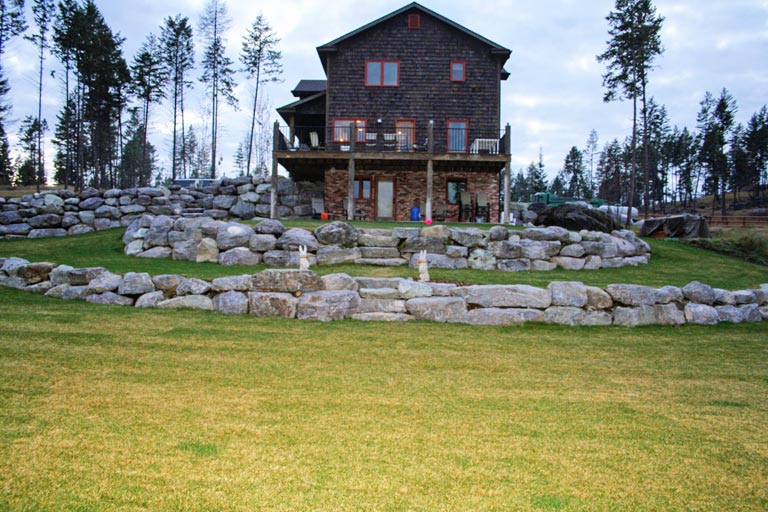 Raise the Bar for Your Landscape
Massey Excavating and Landscaping is your all-in-one expert for landscape earthmoving and affiliated landscape design and installation services. From excavation, to erosion control and grading, to general earthmoving and more, we aim to provide property owners with the perfect baseline for their landscaping. Contact us today at 406-257-8947 to schedule service.