Construction Site Preparation
in Kalispell, MT
Put your construction or subdivision site preparation project in the hands of Massey Excavating and get the superior level of service you need, from professionals who understand the importance of a job well done. We've worked on job sites across Kalispell, MT and provided an extensive range of site prep services that align with your project and expectations. From construction site excavation and conduit trenching, to grading and drainage, to asphalt prep and road building, our skillset knows no bounds.
Demolition and Grading
From outbuildings to underground tanks, call us in for demolition. We've got the equipment to quickly tear down and remove structures, and our track record for safety is unsurpassed. Call us to take down residential and commercial structures of any size.
Once the land is free of obstructions, we can grade it. We're equipped for earthmoving, with the goal of redirecting the slope of the land or even creating more available land for you to develop on. Whether you need earthmoving for a pending development or grading to reduce runoff and erosion, we can help.
Erosion Control
Good drainage is a quality of any sustainable landscape—and it's important in Kalispell, MT, to handle the influx of melting snow every spring. Through our erosion control services, we'll grade your property for proper runoff, so you're not left with pooling water or extreme soil saturation. Our erosion control capabilities extend to properties of all sizes, no matter the terrain you're currently dealing with.
Unlike sediment control, a reactive excavation and construction process, erosion control is proactive. Erosion control processes target keeping the soil in place with preventative measures instead of repairing soil already in motion. When you're unsure what type of land management services you may need for your developing property, call the experts today.
Land Clearing and Tree Removal
Before you can develop land in Kalispell, MT, it needs to be free of vegetation. This is a big job and one we're ready to handle on residential, commercial or municipal property. Our equipment and expertise with landscape design give us the know-how to remove trees, brush, undergrowth, shrubbery and any existing natural installations. Our land clearing will leave you with barren land, ready to develop.
Foundation Trenching
Before you can pour and pave the foundation to your new development, you need earthworks services to establish the site. We're available for basement digging preparation and trenching, so you can begin staking, pouring, paving and generally establishing the foundation for whatever building is set for the property in question.
French Drain Installation
On properties with drainage issues or water accumulation, we're able to install French drains. These drains are filled with gravel or rock or contain a perforated pipe that redirects surface water and groundwater away from an area. We can install and coordinate French drains to prevent erosion, soil oversaturation, foundation flooding and much more, directing runoff to sewage or drainage installations.
Pond Digging
As more and more developers and homeowners develop at the top of mountains, there's increasing demand for roads. Call on our team to lay the gravel for switchbacks up the mountain. We grade and gravel in preparation for future asphalt paving, giving construction vehicles and on-site personnel traction they need to safely traverse the path up to the worksite.
Asphalt Preparation and Road Building
Our experience with larger earthmoving projects includes pond digging. We've dug out and assisted with pond installation across Kalispell, MT. Call us for work on golf courses, corporate campuses, municipal properties and private residences. Our experienced excavation professionals will ensure your pond meets specifications, dug and graded with precision.
Utilities and Conduit Installation
Utilities are essential for every new development in Kalispell, MT. We dig trenches on undeveloped land, to modernize and prepare the site for conduit lines to be established. Count on us to trench in lines for gas, power, sewage and water, dig to exactly depths and plumbed to meet the specifications of every utility.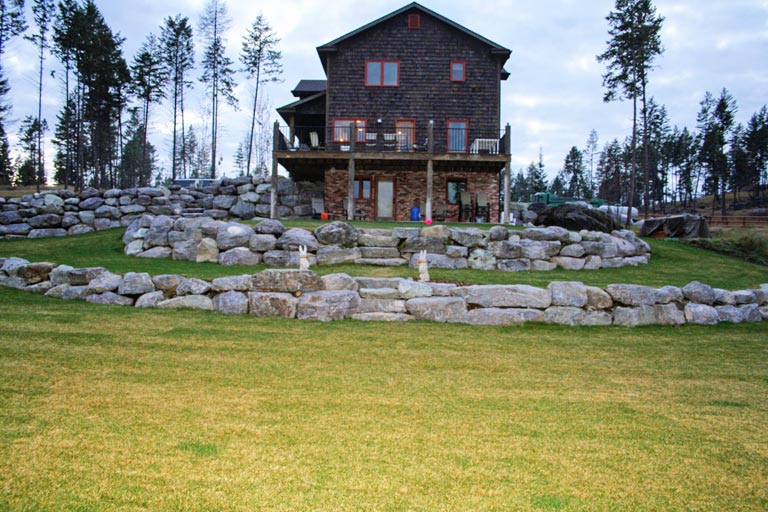 Call us for Full-Service Excavation
Massey Excavating stands ready to provide excavation and septic tank installation for projects across Kalispell, MT and surrounding areas. No matter the demands for your project, contact us today at 406-257-8947 to discuss your scope of work and to get an estimate.